Bio
The collaboration of best friend siblings Esther and Caleb Smith, Esther Melody Band (EMB) are an act that really is best caught live. With Esther's sensational vocals/captivating stage presence and her brother Caleb, a fource in his own right on the drum/production front, this duo are an audibly and visually commanding unit. A facebook comment from a fan stated; "Often with artists the live show is not as good as the recorded music, with EMB live was even better! If it were the vocal Olympics, Esther would win gold, silver and bronze!". These intrepid adventurers, who call both Nashville, TN and their native Wellington, NZ 'home' are about exploring the realms of possibility in creative expression, life on earth and beyond.
Esther began performing as a 5 yr old, recorded on her first track at 7, wrote her first song at 12, by 15 she'd decided to take music seriously and at 17 a debut album was in the works. Caleb's path was somewhat removed from his sisters, he gave up music entirely during his teens until he was inspired to get back into music during a festival where he saw his favourite band killing it onstage. After kicking off on her own, it became apparent that while Esther could easily be the typical singer-songwriter she had bands in her blood so she enlisted Caleb on drums/production and they set of on their musical journey as comrades.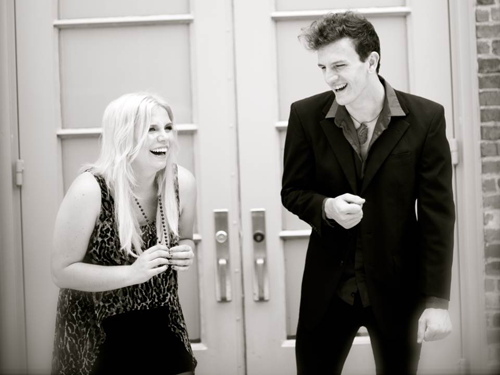 EMB bring a musical style and brand of showmanship they've now dubbed "Megamorphic" to the table, along with a threefold focus on music, ministry and mission. Their experience includes almost a decade of touring/working as business partners, ministry leaders, itinerant musical evangelizers and next generation EMBassadors with Wycliffe Bible Translators. The relationship with Wycliffe started mid 2007 in NZ and is now developing internationally through their Vision 2025 Global Challenge which was launched June 2014 thanks to sponsorship from Raise the Praise Festival. The Global Challenge is a key factor in outworking EMB's overall support for world literacy and spiritual freedom.

The band's diverse repertoire of originals was initially produced with award winning artists/producers such as Tui winning Chris White (The Lads), Brad Dring (Rapture Ruckus), Nic Manders (Brooke Fraser), Oscar winning Mike Hedges (Lord of the Rings and King Kong) and Grammy/ Dove award winning Joe Baldridge (Jewel, DC Talk). Now these Kiwi pop rockers are writing, arranging and producing their own sounds in Music City, USA where they continue to gain high respect from industry professionals such as Brett manning (Singing Success), Jeff Fellers (previously Billboard, now Salem), Mark Godwin (Belmont & Lipscomb University) and Greg Lucid (Mike Atkins Entertainment).

With two full albums plus an E.P. under their belt, their latest project "Megamorphic" is yet to be released. After EMB returned stateside from their New Zealand tour in 2013, Esther and Caleb in conjunction with their own artist label Spinnovations, decided to place a greater emphasis on expressing their faith in their music, particularly in the form of praise and worship, thus "Megamorphic" emerged. It's more than just a revised musical direction, it's a rock out, break out, hang out church movement that is looking to transcend the wider marketplace with music that speaks into all aspects of life.